Ok, so you have to know that a great part of my life is my hair. Not because I have a beautiful, full, thick and voluminous hair. Quite the contrary. I have thin, flat, oily in the roots and dry in the tips, hair. The worst type of hair. It's so thin that I am very much afraid that some day I will get bald spots! So I try a lot of products and spend a lot of money in haircare items. I mean shampoos, primers, volume sprays, etc. And I have some great ones to share with you.
But for today I want to talk about dry shampoos! The discovery of dry shampoo was one of the best in my life! From that day on everything made sense! We all know that we can't wash our hair everyday, but try to not do it when you have a macdonalds fryer in your scalp. I couldn't leave my house without washing my hair everyday. And one day, while browsing in the internet I found this magical thing, the dry shampoo. And the quest to find the perfect one begun.
So first I will talk about the bad ones that I've tryed.
Worst of the worst: H&M In-Between Days Dry Shampoo
This dry shampoo does make your hair look clean, but it also makes it look like you have a wig on. And not a good wig. It gives you extra volume, it's true, but your hair gets crunchy, and it's almost impossible to brush, it can get very painful.  And when you first apply it feels like your hair is wet, like hairspray. It's just a mess. And this is not a cheap dry shampoo, it costs around 8€ (around 8.6$), with this money I could get better. Definitely not buying it again.
Bed Head Tigi Dry Shampoo it's an overpriced one, and it didn't work well for me. My hair didn't look that clean, it gave exagerated volume and no movement, and once more it was like hairspray. I bought it for 10.95€, and not worth the money at all.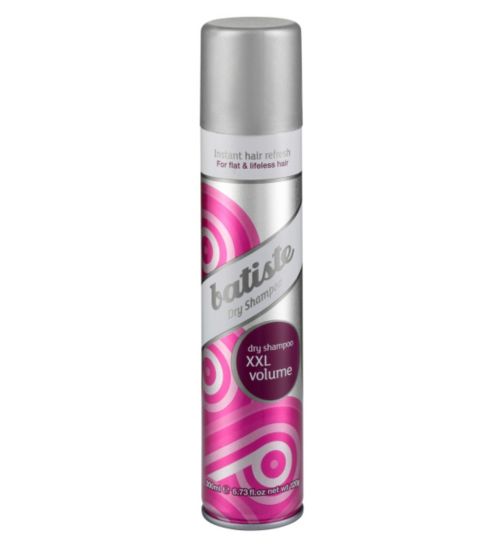 Next on the list, Batiste XXL Volume. It's funny, you would think that for me, who have such a flat hair, this "voluminous" dry shampoos would be perfect, but they are just awful. I love me some Batiste dry shampoo, but this one I wouldn't recomend to anyone. It works a little bit better than the previous, it's not so dificult to brush, but it still takes away every movement to your hair. I paid 4.99€, which is a fair price, so I was not so disapointed when it didn't work out.
Now the good experiences.
This are, so far, the Batiste dry shampoos I've tried, and I've loved them all. They are the Batiste Blush dry shampoo (with a floral scent), Batiste Cherry dry shampoo (the name speaks for itself, cherry scent, duh!), and the Batiste Crisp and Cool. They really make your hair look clean, they smell good, they give volume to your hair and movement. Also, they are super cheap, I've bought them for 3.99€ each. What else could you ask for? I'm sticking with this ones. Bear in mind you have to be careful when using this, you can not use them and walk away, because the white residues take some time to disapear, and you have to brush your hair. I just apply this the night before, and let this babies do their magic through the night.
For last, but definitely not the least, the Klorane dry shampoo. This is great, it makes your hair feel super clean, it removes all the oil, gives you volume and movement. It's slightly better than the Batiste ones, because the white residues disapear so easilly, and it feels very gently in the hair, not crunchy at all. As I said I always use the Batiste ones the night before, or some hours before I leave the house, but the Klorane one is just apply and go. It's the easiest one to use but it's also the most expensive. I usualy buy it at 11.80€.
I must add that in last resource you can always use baby powder, been there, done that.
So, dry shampoos have really changed my life. They don't make my hair healthier, but definitely help me to avoid washing it so often. As I said before, I use the dry shampo before I get to bed, so it works during the night, to avoid excessive oily hair in the morning, so the next day I just have to brush my hair and it is as good as if I had just washed it. Also, I use a clarifying shampoo to avoid accumulation of residues in my scalp.
This are, so far, the dry shampoos of my life. I'll keep you posted!
Xoxo